Axicon 6025-S High Speed Point of Sale Barcode Verifier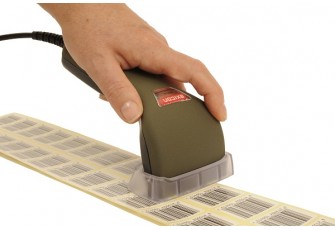 The Axicon 6025 has been specifically designed to read all linear barcodes with a length of up to 66mm including the quiet zones.  
The "S" range of Axicon verifiers have a  "Continuous Scan" feature. 
Just place the verifier over the barcode (or slightly above or below the barcode), press the trigger and slide the verifier over the code – in less than a second you can have results averaged over a maximum of 100 scans of the code at different points in the bar height. 
The system consists of a state of the art CCD read head and application software which is continually update th guarantee that your verifier always meets the latest ISO/ANSI standards. The Axicon 6025-S is supplied with USB2 connectivity.

Datasheets

Axicon 6025 Barcode Verifier.pdf
Manuals

Documentation Booklet LinearVerifers - S Range- 2014.pdf